Publications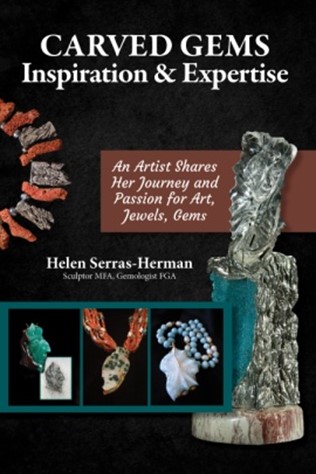 CARVED GEMS - Inspiration & Expertise
Just Released!
In this book, Helen Serras-Herman, an award-winning gem and jewelry artist and National Lapidary Hall of Fame Inductee, shares her passion for carved gems, the interconnection between fine art and the spell-bounding natural mineral world, and her personal journey, along with the challenges and joys of a gem artist's life. Helen reflects on her sources of inspiration and influences from historical places, mines, gem materials, landscapes, flora, and ancient Greek mythological figures, sources that collectors may find expressive and fellow artists stimulating.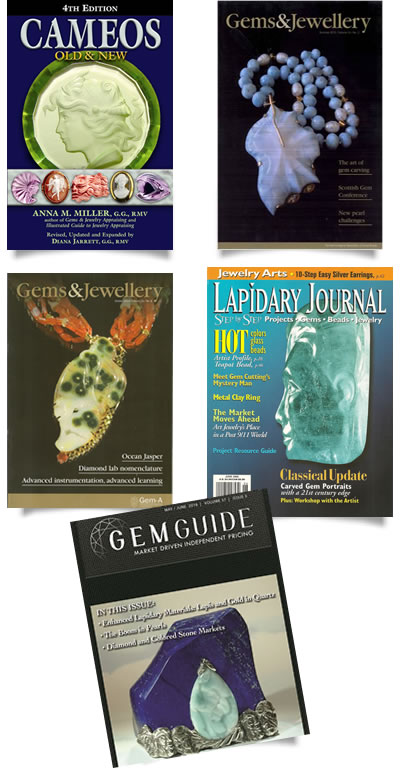 Helen is often interviewed about her thoughts and views by trade journalists and authors, and her work has been published in over 200 trade magazine articles. Her work has graced several covers of trade magazines and featured on local radio and TV channels.
Among them are:
Lapidary Journal, JCK, Rock & Gem, The Guide Gem Market News, and the GemGuide, The Australian Metal Stone & Glass, Colored Stone, American Gemcutter, The ArtBook of the New West, Gems & Gemology, Rapaport Report, Southwest Art, Gems & Jewellery magazine, Trends & Colours magazine, the Star Magazine in Corfu, Greece, Kefalonitis magazine in Kefalonia, Greece, the Green Valley News, Tucson Weekly, the AGTA prism, the Gem Scene magazine, In Color magazine, and MJSA Journal.
Her work has also been featured in several books:
Master Making: Profits in Lapidary
Cameos Old & New, 2nd, 3rd by Anna Miller and in the 4th edition in 2009 revised by Diana Jarrett, an entire chapter devoted to her work
Phenomenal Gems, by Fred & Charlotte Ward, 2008
ArtBuzz the 2008 Collection, a Fine Art book after an international competition.
Gem Engraving in Great Britain from antiquity to the present, by Dr. Julia Kagan, 2010
Warman's Jewelry, 4th Edition, Identification & Price Guide book by Kathy Flood, 2010
Collecting Rocks, Gems & Minerals book by Patti Polk, 2010
Opal, Gem Series books by Fred Ward, 2011
Rare Gemstones by Renee Newman, 2012
International Contemporary Masters 7, after receiving Honorable Mention Award, Artavita International Competition, a fine art book published by World Wide Art Books, Inc, 2013
Exotic Gems, Volume 3, book by Renée Newman, International Jewelry Publications, Los Angeles, February 2014
Exotic Common Opals, Thirteenth Annual Sinkankas Symposium- Opal, April 2015
Exotic Gems, Volume 4, book by Renée Newman, International Jewelry Publications, Los Angeles, February 2016
Helen is also a frequent article contributor to:
Rock & Gem magazine since 2010
Gems & Jewellery magazine published by Gem-A in London
The GemGuide published by Gemworld International
The Gem Shows EZ-Guides, since 2013
Many Gem & Mineral club newsletters